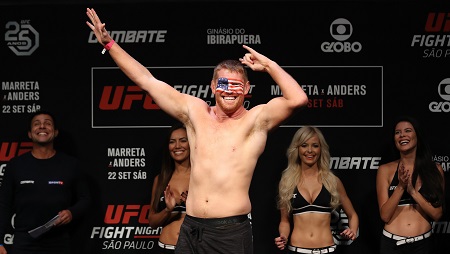 Have fists. Will travel.

That seems to be the way Sam Alvey has approached his professional career, one that features 45 fights in eight different countries.

While the majority of those appearances have come in the continental United States, the 32-year-old from Wisconsin has always used competing in the cage as a way to see the world, accepting fights in foreign locales in exchange for actual pay during his early years. Since signing with the UFC in the summer of 2014, the affable light heavyweight has maintained that approach, making more appearances abroad (nine) than at home (seven) while amassing a 10-6 record and a reputation for always being down for a scrap.

In addition to adding stamps to his passport, competing around the globe has also given Alvey an opportunity to create memories with his family, as his wife and three children accompany him on every trip.

"I don't accept fights because of that, but it's an added bonus to every fight I do accept," said Alvey, who has the brood on the road with him this week in Melbourne, where he'll take on Jimmy Crute in the opening bout of Saturday's UFC 234 main card. "I don't think about it that much right now, but every now and then, I'll reflect and it's so cool.

"My kids are old enough now that they're starting to remember stuff and it's always going to be cool that they'll be able to say, 'Yeah, I've been there. I've done that.' They'll be able to one-up almost everybody the rest of their lives.

"Most adults don't get to experience it, but my five, four and two-year-olds have done it all."

Ironically, the two trips Team Alvey hasn't made yet are the ones that would seem to be the most logical and obvious — a home game in California and an appearance in "The Fight Capital of the World," Las Vegas.

"Neither have happened and I don't ask for those fights, either," joked Alvey. "I love my fight week because it's like a little vacation — I get to go, hang out, goof around for a week — and if I were to fight close to home, it wouldn't be goofing around for a week. It would be doing stuff with friends and other people and my phone would be blowing up. It would be a lot more work for me to fight close to home, so it's never been important to me.

"Some day, I'm sure I'll fight in Vegas," he added. "I really don't want to fight in Vegas, but some day, I'm sure I will. I'll be headlining a card, doing something and my kids will get to go to Vegas with me, which just isn't as cool sounding as, 'Yeah, my kids went to Poland with me.' They went to Canada, Mexico, Australia, New Zealand — they've been everywhere with me, so it's pretty cool.

"But someday, I have to. I have to say, 'I fought in Vegas' and someday I'm sure I will."

While Canada is the country Alvey has visited most often for work over the course of his 10-year career, this will be his third trip to Australia with the UFC and in addition to getting to see the country's largest cities, the veteran has thus far enjoyed nothing but success while knocking off local favorites.

Alvey registered his first UFC victory in Sydney, knocking out fellow TUF alum Dylan Andrews a little over two minutes into his sophomore appearance inside the Octagon. Nine months later, he touched down in Adelaide and took it to Dan Kelly, handing the Olympic judoka the first loss of his career in just 49 seconds.

This weekend, he'll cross Melbourne off his list with his short-notice, main card assignment opposite Crute.

It's a hometown opportunity for the 22-year-old newcomer, who punched his ticket to the UFC by punching his way through Chris Birchler on Season 2 of the Contender Series before registering a third-round submission win over Paul Craig in his promotional debut in December.

Unbeaten in nine starts, the strapping local boy is another member of the cast of fighters from the Oceanic nations making waves in the UFC, a crew that includes lightweight Dan Hooker and fellow UFC 234 competitors Kai Kara-France, Shane Young and Israel Adesanya.

As someone who makes it a point to watch as much film on his opponents as he can, Alvey found his preparation for this weekend's meeting with Crute far easier than many of his more recent appearances.

"He's got so few fights that it's a much more pleasant experience compared to when I fought "Little Nog" and there were 45 fights I had to watch," said Alvey, who fell to the Brazilian legend last time out. "Plus, his name is spelled almost the exact same as his twin brother, so there were a bunch of times I would make it halfway through the fight before I realized I was watching his brother.

"He's very talented," he said of Crute. "I think I've got my work cut out for me, but I think I've got it. It will be a real big, real pleasant feather in my camp when I get the win."

And make no mistake about it: Alvey doesn't plan on losing — not this weekend, not next fight, not ever again.

Following his loss to Nogueira in September, the smiling southpaw took to Instagram to update his family, friends and fans about how he was feeling after the bout, at which point he vowed never to lose again.

Five months later, he remains steadfast in his conviction.

"I'm never losing again," said Alvey, who argued he only has 10 losses, calling his 2012 majority decision loss to Brandon Ropati a case of home cooking.

"The New Zealand one doesn't count; I was hometown robbed, but yeah, I'm never losing again. I've done it, losing sucks and I don't think I want to do it again, so I just won't."

And what if Crute isn't willing to accept those terms?

"I don't need him to accept it," he said. "As long as I understand it, he'll figure it out (on Saturday)."

Have fists. Will travel. Won't lose.