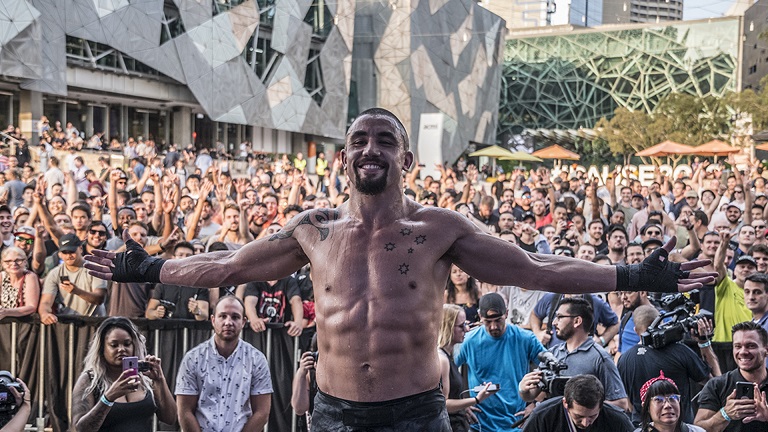 The Aussie MMA fans are the stuff of legend. Without witnessing it in person, it's difficult to articulate the level of support and unbridled bedlam that emanates from the crowd at a UFC event Down Under. The support extends to every fighter on the card, veteran or rookie, and it further extends to the fight week activities leading up to the big event.
This was evidenced yet again when a massive crowd packed Melbourne's Federation Square to get a glimpse at some of the stars coming up on this weekend's sold out UFC 234 extravaganza. The rambunctious bunch made it sound at times as if the fights themselves were already underway, and the fighters in turn fed off the energy.
It's not every day you hear a Whitney Houston jam at open workouts, but UFC open workouts had never before featured Callan Potter. The local Vicotoria, Australia talent will make his Octagon debut Sunday and put his own unique spin on his moment in the spotlight. At the end of an all-smiles workout session that looked as fun as any in recent memory, Potter brought his toddler daughter onstage to be his dancing partner for a rousing "I Wanna Dance With Somebody" that had the audience breaking into song, and brought smiles to even the most cynical in attendance.
Potter was followed by another local-boy-made-good with Melbourne's own Jim Crute. The vocal support for one of their own is the kind usually held for top contenders, not fighters making their second UFC walk, but this is Australia. Fans delighted in 'The Brute's' burly, uptempo workout while chanting along with "TNT" by legendary Aussie institution AC/DC.
On the verge of his fifth fight in a calendar year, New Zealand's Israel Adesanya has objectively become one of the most captivating rising stars in the promotion. Like his fights, his workout was flush with precision and physical prowess. But, true to his personality, it was also tinged with style and humor as he injected dance steps and classic WWE moves into his routine. Adesanya seemed at home, autographing his protective gear and tossing it into the adoring crowd, while beckoning all to watch his fight against legend Anderson Silva on Sunday.
"Get some breakfast. Pack a lunch. Buckle your seatbelt. Get some popcorn. We're gonna have fun!"
Main event challenger Kelvin Gastelum was next to the stage, arriving to more than a little booing at the man looking to unseat the face of Australian MMA: Robert Whittaker. Looking fit and fast, Gastelum showed off hints of evolved striking game, and acknowledged that he was in enemy territory with a smile.
"This is an amazing city, thank you for hosting us," the former TUF champ said warmly. The crowd cheered in approval, although it was short-lived when he repeated his prediction for the fight.
"When I say I'm gonna knock him out in the first round, I mean it," he said, as the chorus of boos returned.
Anderson Silva is, of course, not an Aussie. Nor has he ever fought here before. But his history in the Octagon precedes him, and he received a rockstar welcome from the Australian crowd on par with The Spider's greatest heyday as champ.
Working out to a Michael Jackson medley in a nearly synchronized routine with three teammates, Silva served a reminder of the danger he still possesses, and fans delighted in witnessing a legend in the flesh.
With a fervor usually reserved for rock stars, the biggest noise of the evening was saved for the headliner of Sunday's Pay-Per-View. As the sun began to set and a refreshing breeze began to stir, middleweight champion Robert Whittaker gave the crowd the action they had gathered to watch. Punching the pads so hard that his teammate's hands must still be stinging, Whittaker was all business, and threw with the intensity usually reserved for fight night. If it were possible to make the prospect of this championship match more enticing, Whittaker actually managed to do it.
"I see my right hand landing like a heat-seeking missile," he had said. With Thursday's performance, the loyal locals got to see it too.