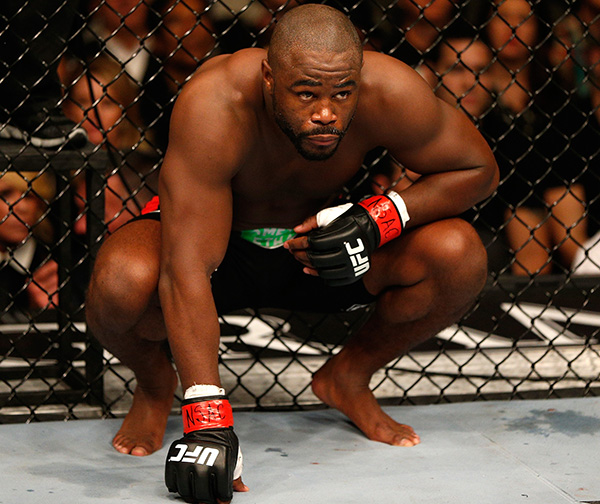 Entering Saturday's bout with
Anthony Smith
on a four-fight losing streak,
Rashad Evans
could be overwhelmed with pressure, hoping to turn the tables and regain his place as one of the top fighters in the world.
He's not.
"I'm really relaxed," he said, and the former UFC light heavyweight champion sounds like it before his return to the 205-pound weight class. A brief two-fight visit to the middleweight division was a failed experiment, and after lackluster split decision losses to
Daniel Kelly
and
Sam Alvey
, he knows it.
"Sometimes you just realize the juice isn't worth the squeeze," he said of fighting at 185 pounds. "Unfortunately for me, I felt like I could make the weight and have good muscle tone and everything like that, but the problem came when it came to carrying an energy level throughout an entire fight with guys that were naturally close to that weight and used to moving around at that weight. I felt like I was very lethargic in my fights and I couldn't push the pace. I couldn't do anything that I was effective at in the light heavyweight division."
When Evans was on, his hands were fast, the right hand devastating, and he still had his Division I wrestling background to fall back on. Not surprisingly, with all those tools, he soared to the top of the light heavyweight class, halting
Forrest Griffin
to win the 205-pound title. It's hard to believe that was almost ten years ago, and even though he lost the crown to
Lyoto Machida
in 2009, there were still plenty of big fights and big wins.
But when the losses started adding up, it left him with a lot to figure out.
"Here's one thing I had to accept and it was really hard for me to," Evans explains. "I came into the UFC and I was undefeated and I went on a really long tear and I didn't lose until I fought Machida. And that was after I became champion. Throughout the years after that, I had losses sprinkled in there but there was never really anything consistent. So when I started getting consistent losses, that was the first time that I've experienced losing to that magnitude.
"And if you look at other fighters' records, they have those losses sprinkled throughout their career," he continues. "And they're not looked at as so bad. For me, people got to watch me grow as a fighter and grow as a person, and now when I'm losing fights, people think, 'Oh, he's done, he's washed up.' And the truth of the matter is, life has a rhythm. Sometimes, it's just the way it is and it can't be analyzed, can't be broken down any other way. It's just the rhythm of life. Sometimes the pendulum goes up and when it goes to the top, it's gonna go back down, and it's how you handle it when the pendulum starts going in a direction you don't want it to. It's just life. And I've had a hard time with that. I started digging into myself and I realized that the polarity of life is okay."
More UFC 225:


So has that pendulum hit the low point, meaning an upswing is on the way at United Center in Chicago?

"I feel like I hit the bottom, but it remains to be seen," said Evans. "This could be a game of limbo, 'How low can you go?'"

We laugh, the 38-year-old retaining his sense of humor through these tough times. But at the same time, Evans has never been one to dodge the tough questions, so has he started looking at the finish line of a stellar career?

"I don't look at the finish line, but I do understand that it's a reality closer than it's ever been," he said. "But I'm okay with it. I think the biggest problem in life is when we're afraid to let go. We want to hold on and there's a tendency to cling, and then when you cling, there's a fear that comes along with it because you're afraid to embrace the unknown. For the longest time I operated in that space. I'd go out to fights and I'd be thinking what I shouldn't be thinking: 'I don't want to lose, I don't want to lose, I don't want to lose.' And I'm out there barely fighting and barely doing enough, and the fights that I lost at 185, the guys that put it on me, I just didn't do anything. And I didn't do anything because I was afraid to lose. And that caused me to lose."

Ain't that a bitch?

He laughs. "That's the paradox."

Add in a dose of real life, and it was the perfect storm for a long losing streak, and it didn't hit him until there were four straight Ls on his record.

"I wasn't analyzing how much my personal life was affecting my professional life," Evans said. "I was all over the place in my personal life and just really in a lost place. I got away from me because I nurtured only one side of me, which was the entertainment side. And you see human nature. It was hard for me to deal with human nature."

After the loss to Alvey last August, he pondered his future. Eventually, he called up his manager, Ali Abdelaziz, with a request.

"I don't know how long I'm gonna fight, but before I go, let me go back to my weight class and enjoy myself."

Now he's back against hungry up and comer Smith. He's a different style matchup than Kelly and Alvey, with the main difference being that he's going to be in Evans' face from start to finish. And "Suga" likes that.

"I need to have somebody that keeps me up at night and keeps me doing extra work and keeps me locked in and not getting complacent," he said. "With the other guys, nothing against them, I just felt I was a better fighter than them. And not that I don't think I'm a better fighter than Smith, I just think that he presents a lot more challenges and he's extremely tough. I like that feeling. This is what birthed me as a fighter. This is why everyone in the MMA world knows my name. It's because in these situations, I come to life."

That's the key. Rashad Evans is living again, and whatever happens on Saturday night, with his kids in attendance at United Center watching him compete live for the first time, he's going to fight his fight.

"I'm excited to go out there and compete," he said. "Who knows what may come, but I will say this – I'm gonna fight my freaking guts out. After this fight, you're not gonna say he didn't let his hands go. I'm gonna fight my guts out, and whatever it is, it is. I'm doing it because I love it and I'm gonna have fun with this one. And me having fun gave me this rebirth. It's why I started doing it."