The story is one that sounds like it could be written for a movie: two Ultimate Fighter champions become two TUF coaches and eventually fight for a world title that only one of them can hold.
The very definition of a fighter who has paid his dues, Kelvin Gastelum is looking for the fairy tale ending to that story when he takes on champion Robert Whittaker for the middleweight strap this Sunday at UFC 234.
Since the dominant reign of Anderson Silva (who appears in the co-main just before Gastelum's fight), the middleweight strap has been hoisted by a number of other fighters including Luke Rockhold, Georges St-Pierre and Michael Bisping before Whittaker got it wrapped around his waist.
Watching the belt continually change hands is something the 27-year old aspires to put an end to, and hopes his performance this weekend ushers in an extended championship era for the Arizona native.
UFC: In the very definition of "go big or go home," you're predicting a first round KO of Robert on Sunday!
KG: I could be wrong, but yeah. I'm very confident in my abilities and very confident in the work I've put in this camp, and I just feel fantastic. So fantastic that I'm predicting a first round knockout. You know, I could be wrong. I'm ready for a 25-minute war, though. I just want to be able to go in there and demolish and take that title from Rob. I don't want this to be even close.
UFC: You and Robert have almost had a parallel journey into this fight. You're both TUF winners, you were obviously TUF coaches, and now you're here fighting for the belt. You couldn't write a much better story for this matchup.
KG: Yeah, Rob has been a guy I've watched for a little now, and I've always thought that he and I could be a great fight. He's not a guy that looks for the takedowns, and neither am I. Although he has a jiu-jitsu background and I have a wrestling background, we're two guys that like to box; two guys that like to exchange.
UFC: And what was the dynamic like when you were filming The Ultimate Fighter</em> together?
KG: It was ok. I adapt to my opponents, I don't care if they want to be around me or not.
We didn't do more work than we had to together, because it is a little awkward. You have that tension between two guys who are going to fight. But he's a respectful guy. I'm a pretty laid back guy myself. It was all good, we just didn't do more than we had to with each other.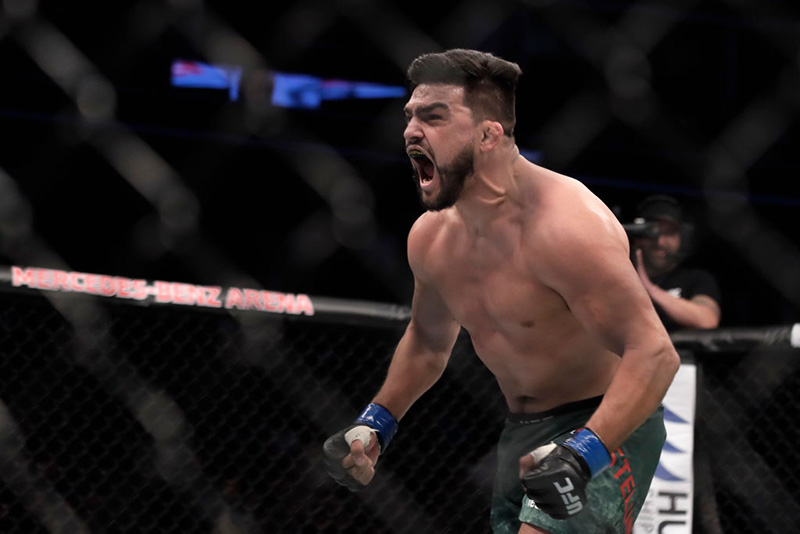 UFC: You and Robert are young guys at the top of your game, it's possible this is only the first episode in this series.
KG: Yeah! He's only 28, I'm only 27. We haven't even hit our physical prime yet. We're going to be around a long time.
UFC: Whittaker has been known for having some unique striking styles. Tell me about the evolution of your own striking game and how you prepare for a guy like that?
KG: I come from a wrestling background, but I love to train boxing. I love boxing. Eventually I'd love to have a boxing fight. I've been improving my game over at Kings MMA with Master Cordeiro, and these guys are getting me better every single day.
UFC: You're obviously focused on the task at hand, but how interested will you be in what happens in the UFC 234 co-main?
KG: Actually, as a fan, I'm excited for that fight: Anderson Silva vs Israel [Adesanya]. They say it's the past vs the future, but I think people are writing Silva off a little too early, you know what I mean? He's still the GOAT. He's still Anderson Silva.
UFC: You're not only facing Whittaker in Melbourne, but there's a ton of other Aussie and NZ fighters on this card, so it's not going to be a friendly crowd. Do you like fighting in enemy territory?
KG: Oh yeah, I'm perfectly okay with being in this position. Rob is the one fighting in his home country. Rob is the one who has people's expectations on him. I have no pressure in this fight, this is not the first time I've been in this position. I've gone to Rio and fought Jacare. I've gone to Fortaleza and fought Vitor. I went to Long Island and fought Chris Weidman. I haven't been the hometown guy in my last few fights, so I'm perfectly okay with that.
UFC: Does winning a fight where you're not the hometown guy feel a little extra satisfying?
KG: Not necessarily satisfying, but I definitely shut the critics up every time. There's gonna be a lot of mad Australians that night. I'm definitely going to be able to steal the show that night.
UFC: You've spoken in the past about bringing legitimacy to the division, what did you mean by that?
KG: Rob's been a great champion, but there's been interim champion, the whole GSP and Mike Bisping thing, and just a craziness in the division, and I feel like I want to be the champion that defends the belt against the number one contender, each and every single time.
Steve Latrell is a writer and producer for UFC.com. Follow him on Twitter @TheUFSteve