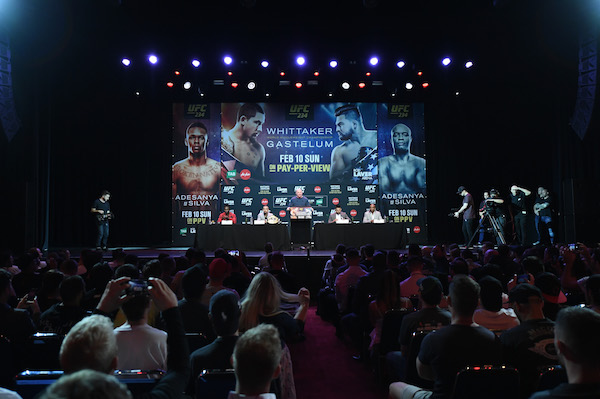 You don't need bad blood to make exciting fights, and that's good news for the combatants of UFC 234.
Four fighters who have always let their fists do most of the talking took the stage ahead of their main and co-main appearances at Sunday's [Saturday US] sold-out extravaganza, and managed to ramp up the anticipation of their respective showdowns without getting mired in stew of insults.
As they did when they coached opposite one another on
The Ultimate Fighter,
middleweight champion
Robert Whittaker
and challenger
Kelvin Gastelum
were ultimately cordial to one another, and has been the case since TUF, both men were careful to give respect where respect is due and never mistaking confidence for arrogance.
"Kelvin is next in line. He's the biggest hurdle in my way in terms of me developing myself," explained Whittaker.
"He's a true test; gonna be a true test of my character and my abilities. I look forward to getting out there, testing myself, learning from it and growing."
Middleweight contender and rising sensation
Israel Adesanya
has a wit nearly as sharp as his fighting game, and it was on full display throughout the festivities—except when it came to his opponent. For a silver-tongued assassin like Adesanya, it was a rare anomaly of admiration.
"I've seen the odds this week and I'm like 'Man, ya'll must have forgot,'" he said of the wagering odds that solidly favor The Last Stylebender.
"A lot of you new fans weren't around during [Silva's] reign and what it felt like. You might've come in around the Rousey era or the McGregor era. But you don't realize who this guy is. He brought me into this game. This guy inspired me to believe a skinny black guy can just come in here and f--- everyone up. He brought me into this game, and for me, it would be an honor to take him out of this game."
It has been a point of fascination among fight fans that Adesanya will take on living legend
Anderson Silva
, a fighter he so clearly resembles in both style and swagger. A win for the New Zealander would be a textbook definition of "passing the torch."
Witnessing the reaction of the crowd, one would never guess that Anderson Silva is neither a champion or Australian. Time had clearly not diminished the enthusiasm for seeing a legend in the flesh, and the crowd seemed nothing short of tickled at the prospect of the dynamic Brazilian squaring off against one of their own. And like the other fighters he shared the stage with, The Spider radiated only respect for his opponent.
"He's a great talent who will have a great future in this sport...I'm very impressed. He's a great fighter...I'm very likely to come here and fight Israel on this card."
Knowing Adesanya's past admiration for The Spider, it was inevitable that Silva be asked if it was possible that his opponent knew him better than he knew himself. For some athletes, such a statement would be a trigger, but for Silva, he saw it as a sincere compliment.
"I'm very lucky, because I have a fan here."
Without the tangible benefit of being an Aussie/NZ fighter or a former champion, Kelvin Gastelum at times appeared the odd man out in the proceedings, but he took it all with the class an aplomb that has been his calling card as a middleweight.
"There's a positive side to all this," he explained with a smile.
"I travel the world, I get to see new places, and do what I love. I'm blessed to be able to do what I do. Nothing in my career has ever been given to me. Nothing in my life has ever been given to me. Everything I've worked for, I've had to take…People have been writing me off my entire career. This is not a surprise to me."