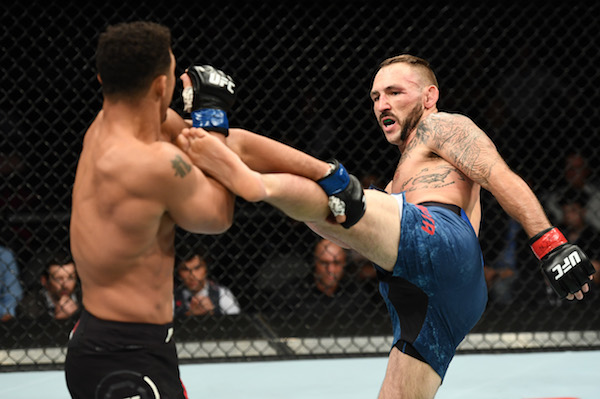 Not many fighters would get an opportunity to step into the Octagon again after registering just one victory in six trips into the UFC cage, but Lando Vannata is different and I mean that in every way possible.
The 26-year-old lightweight has been on the roster for two-and-a-half years and what an entertaining and unique two-and-a-half years it has been.
Vannata made his debut on short notice, jumping into a co-main event assignment opposite
Tony Ferguson
in Sioux Falls, South Dakota when
Michael Chiesa
was forced out of the pairing at the 11th hour. At the time, Ferguson was ranked in the Top 5, had won seven straight and was six months removed from choking out
Edson Barboza
in a wild, bloody affair that solidified his ascension into the upper echelon in the 155-pound weight class.
Vannata was a respected prospect to those in the know but, on paper, his itinerant travels through various promotions and lack of recognizable opponents made him look like a sacrificial lamb to the unaware.
Though he would ultimately suffer the first loss of his career, Vannata made it count, taking the fight to Ferguson right out of the chute, stinging the former
Ultimate
Fighter winner at various points. Between his performance against Ferguson and the crushed velvet suit he rocked at the post-fight event, "Groovy Lando" immediately establishing himself as someone to watch going forward in the loaded lightweight division.
Five months later, he made his sophomore appearance in the Octagon and delivered one of the best knockouts of the year, connecting on a perfect wheel kick against
John Makdessi
at UFC 206 in Toronto.
In two starts, Vannata had pushed a rising contender to his limits and separated a 20-fight veteran with a dozen UFC appearances under his belt from consciousness in spectacular fashion. Heading in 2017, the Albuquerque-based fighter's stock was soaring.
Two years later, as he readies to kick off his 2019 campaign this weekend in Melbourne, Vannata is still in search of his second UFC victory.
"It's been a crazy ride so far; an absolutely f****** wild ride with lots of highs and lows," laughed Vannata, who takes on Marcos Mariano on the preliminary portion of Saturday's UFC 234 fight card. "I don't think you can start on a bigger high than going at it with the No. 2 guy in the world and then next fight, getting the Knockout of the Year; that was a crazy, crazy high.
"Now I'm going on four fights in a row where it's two losses and two draws and it's like, 'What the ****?'"
Vannata's four-fight stretch without a victory might be the most entertaining and unconventional run of its kind in UFC history.
In each of his 2017 appearances — a loss to
David Teymur
and a draw with
Bobby Green
— he earned Fight of the Night honors, adding to his reputation as an action fighter. Last year, the pattern repeated itself as he fell short against Drakkar Klose and then went toe-to-toe with
Matt Frevola
in another thoroughly enjoyable scrap that ended in a tie.
"With the Bobby fight, during the fight, I thought I lost, so when they raised both our hands, I was like, 'Alright; it's better than a loss,'" admitted Vannata. "When I fought Matt, I was confident I won that fight, so when they said it was a draw, I was like, 'Again? Are you f****** kidding me?'
"I take the good with the bad, take it all as it comes and, for the most part, I've enjoyed the ride so far," he added. "I'm looking to get back into the win column and keep this thing going, but yeah, it has been a very weird UFC career so far."
Unlike his previous bout, Vannata heads into Saturday's meeting with Mariano settled into a training routine and locked in when it comes to who he's working with as he prepares to enter the Octagon.
A long-time member of the all-star cast at Jackson-Wink MMA, Vannata is one of several fighters who severed ties with the famed fight team in advance of his bout with Frevola, right around the same time tensions between another veteran of the squad, Donald "Cowboy" Cerrone, and striking coach Mike Winkeljohn heated up.
"The gym that we're at now — Jackson's MMA Acoma — we've got a good vibe going on over there with a good group of guys," explained Vannata of the assembled crew that works out of the facility that housed the team prior to the opening of the new Jackson-Wink Academy a couple years back. "We're building a solid squad, the training has been great, the environment has been fun and I've been really enjoying going to the gym every day and training. I've got no complaints about this camp.
"We're focused on us," added Vannata, who will still have Greg Jackson in his corner and counts
Nick Urso
and Harry St. Leger as his head striking and grappling coaches, respectively. "We wish Wink and all the other guys over there well, but we're focused on what we're doing.
"As anybody can attest to, environment is everything and if you're in a good environment, things just seem to fall into place. It has been a really good environment, very productive and it has been very enjoyable."
All that is missing is a return to the win column.
"I f****** miss that feeling of getting my hand raised at the end without the other guy getting his hand raised at the same time,'" said Vannata, joking and dead serious at the same time.
While he enjoys putting on a show and acknowledges that his entertaining style has certainly helped him maintain his place on the roster despite owning just a single victory through his first six trips into the cage, Vannata's focus is always on earning a victory.
The other stuff is just kind of a force of habit at this point.
"Looking to win is always first and foremost in my mind," he noted. "The entertainment aspect isn't really a thought in my mind so much as I can't help but get into a dogfight. I enjoy just being in the f****** s***.
"When I work out, I want to go hard and it's the same thing when I fight; I just want to get lost in that fight. Instead of trying to get away from that, we've been working at getting better at that and we've gotten really good at just dogfighting."
And it's that expertise in ugly, knock-down, drag-out fights that he intends to deploy this weekend when he steps into the cage with Mariano in Melbourne.
"I think it's a great matchup and I'm excited to welcome him to the UFC," Vannata said of the pairing with the Brazilian newcomer with a nickname straight out of Street Fighter II. "I'm just looking to be dominant — go out there and do some primal, alpha male s***.
"(I want to) take this guy's soul, take his will to fight, take away everything he thinks he can muster and shut him down at every moment; just beat the s*** out of him and rack him."
And then Vannata will stand in the center of the Octagon and have his hand — and only his hand — raised, bringing his strange, two-year odyssey without a win to an end while kicking off the next chapter in what has already been a unique, entertaining adventure in the UFC.